COME SEE THE RACES TODAY!!
The Alexandria Museum Art is proud to bring the Louisiana Dragon Boat Races™ back to
Rapides Parish. This exciting family event makes for a
great day of good, spirited racing, and a great time on and off the water!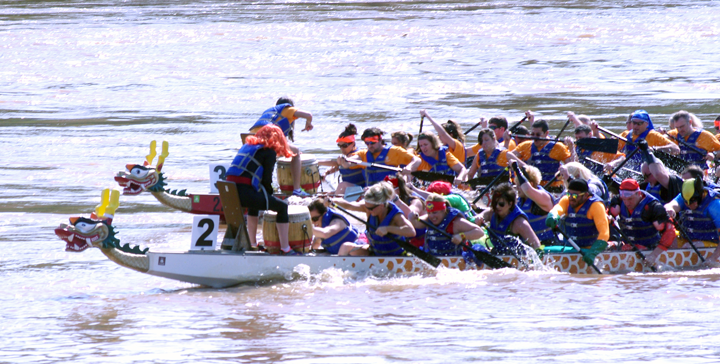 The Muse Chalk Art Project • 9am - 4pm: Muse members have organized and designed chalk art for the upcoming River Fete.
Come watch as the teens execute a Dragon Boat inspired giant chalk drawing near the corner of Murray and Second Street on the sidewalk next to the museum.

Do you know a teen between the ages of 13 and 21 who would like to participate?
Have them contact Cindy Blair at cindy@themuseum.org or call her at (318) 443-3458. 
Alexandria Museum of Art Tours • 12pm & 2pm: Free group tours of AMoA will be at three different times throughout the day. Museum curator Megan Valentine
will guide the guests through the Our Living Past and Kathryn Keller: View From Within exhibitions. An excellent opportunity to experience the Museum.
Art in the Alley Activities • 9 am – 4pm: 
The Alexandria Museum of Art Education department will be hosting several outdoor art activities in the alley and on the patio of AMoA.
Join us for activities like Water Tattoos, Prayer Flags, Watercolor Lanterns, a chalk wall and Paper Hats to keep your head cool!
 
79rs Gang Mardi Gras Indians • 11 am:
See and hear New Orleans Mardi Gras Indians perform their own style of traditional songs, on the Levee stage during the break between rounds. 

Come out to support your museum during River Fete! 
---